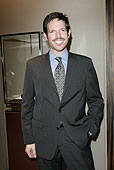 Michael Libow: Beverly Hills Real Estate Agent, Philanthropist and all around good guy!
This page is an ongoing fan page dedicated to all things Michael Libow. The reason I'm writing this page is because Michael helped me out at a time in my life when I needed help most. I actually didn't realize he was the one behind the good-will directed towards me until many months later. That's the kind of guy that Michael is. Selfless, modest and giving to those in need.
Michael was born in Beverly Hills and went to school in the Beverly Hills Educational system. When he got to college over at UCLA, he studied Mathematics but after a while realized that he really didn't want to be a rocket scientist. On a whim he got his real estate license and began selling real estate in Beverly Hills. After a few months Michael realized he had finally found his passion in life. A job where he could utilize his strong business acumen coupled with his great interpersonal communication skills (as well as a great sense of humor). After a few years Michael started to specialize in selling high end real estate in Beverly Hills and excelled at it. Many people have described him as the hardest working real estate agent in Beverly Hills….and it's not hard to see why!
Aside from being a real estate agent, Michael also supports the Beverly Hills Education Foundation as well as the police and fire departments. He gives freely of his time to help out others both in and out of the city of Beverly Hills. A math lab was dedicated in Michael's name at Beverly Hills High School. Libow has also funded a college scholarship for high achieving students at Beverly Hills High.
Needing a creative outlet for his efforts in life, Michael joined Rod Lightening and the Thunderbolts of Love, a classic rock cover band as the lead singer. They have performed many gigs including both corporate and charitable. Their biggest crowd to date was back in October at the annual Apple Harvest Faire in Beverly Hills. Here is a short video of Michael Libow as the lead singer:
Untitled from Michael Libow on Vimeo.
I wrote a little poem about Michael that I wanted to share:
If you've got a complaint, don't sweat it.
Michael Libow is your man and you better
not forget it.
He takes it in stride and drives a sweet ride
and he'll help you settle into your new home with a glide.
Call him today and he will fly on by,
He'll place you in style like a secret agent from the FBI.